Fantasfic Lot Of 50 - 45 RPM Records Jukebox 7" 45's rpm Country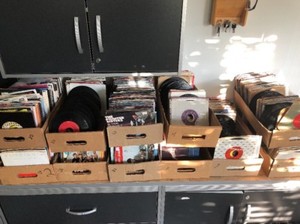 ---
You will receive 50 random records (45's) hand picked from my shelves as they arrive. These All the records will be G+-NM condition (The vast majority in the VG-VG+ range). Some of them will have jackets, some will not. Years will span from the 1950's-90's. These will be perfect for juke boxes, adding to your collection or for resale. Genres will include 100% country.
No junk, these will all be 45's that have good desirability! No Anne Murray, Faron young or Eddie Arnold here, they have been sent to the local thrift store! 

I will include jackets when I there is a match for the record in it already.  Mainly these are in the 70's & 80's.
****GRADING: PLEASE READ BELOW***
MINT (M) ~ Never will grade here
NEAR MINT (NM) ~ Looks as if it just came from a store and was opened for the first time. Possibly played a few times if ever, with little evidence of play/wear. Overall in "like new" condition. May have a few small visible flaws that do not affect play. Labels are clean but may have some very light spindle marks, or marks from handling.
Excellent (EX) ~ These records will show faint signs of wear such as light scratches/blemishes/scuffs. However the marks are superficial for the most part should not affect the quality of the sound too much. A Excellent record will play with little surface noise (if any) and will have a great listening experience. Jacket may have 2-3 of the following: light ring wear, wear on the corners/ seams, small names, stickers, notch/ corner cuts, creases, and light discoloration. Labels may have spindle marks, small writing such as initials, and small stickers.
VERY GOOD PLUS (VG+) ~ Shows signs of wear, light scuffs or scratches may be present but they should not affect playback significantly. Nothing felt by fingernail. Jacket may have a 3-4 of the following: ring wear, shelf wear, seam splits (less than 1" long), writing, creases, discoloration, names, stickers, notch/corner cuts . Labels may also have a few of the following: writing/names, stickers, some spindle marks.
VERY GOOD (VG) ~ These records show more obvious signs of wear and handling. Record has surface noise that is noticeable in some spots but perhaps is quiet and clean in other spots. Clicks and pops may be heard, especially during a song's intro/outro. Some of the scratches can be felt with a fingernail. The jacket can have more pronounced ring wear, shelf wear, stickers, marks, staining, seam splits on any or all 3 sides but they are still fairly intact, writing, cuts, and discoloration. Record Labels may have writing, names, stickers, and can have spindle marks.
GOOD PLUS (G+) ~ Significant and obvious wear and handling including surface noise throughout, audible scratches which cause clicks and pops and crackle but no skips or repeated grooves. Jacket may have significant ringwear and/or staining, seam splits and all 3 sides, cuts/rips/tears. shelf wear, stickers, and discoloration. Labels or jacket may have writing, names, stickers, be partially peeled off, and can have numerous spindle issues.